For Custom Catering Services, call Lisa:
810-399-5035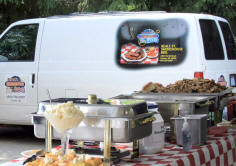 Click on a menu below to view the menu or download a PDF file...

To-Go Menu

Catering Menu


There will be a 3.99%
charge for credit card processing.

Cash Discount
Pay with cash and
avoid the credit card processing charge.

Please be aware that our meats, especially chicken, have a pink hue to them. This is merely a characteristic of the slow wood cooking process... the sign of true Q. You can be assured that we have cooked all meats to a proper temperature. Our St. Louis ribs and 1/2 or 1/4 chickens can be ordered wet (grilled with our house BBQ sauce) or dry (grilled without sauce. Baby Back ribs are grilled wet.